Metallurgical Lab
A division of Watson Grinding & Manufacturing.  Machining, Grinding & Thermal Spray Since 1960.
One of our unique strengths is our in-house metallurgical laboratory which we use for research & development, quality assurance and failure analysis. We pride ourselves in supplying the best quality coatings and manufactured products in the industry and our A2LA Accredited ISO 17025:2005 laboratory allows us to ensure the quality and consistency our customers demand.  View our certificate A2LA Accrediation ISO 17025:2005.  Our equipment is kept calibrated and maintained per ASTM standards.  Visit our Videos page for a comprehensive look at the processes and purposes for which Metal Powder Testing, Hardness Testing and Thermal Spray Coatings Testing are performed.
Our Coating Testing Capabilities include: Bond Strength Tensile Test, Shear Strength Tensile Test, & Macro Hardness Test (Rockwell), Micro Hardness Test (Vickers), Bondline contamination, Percent Porosity, Abrasion (Tabor Abraser), Apparent Density, Flow Rate and Powder Sieve Analysis.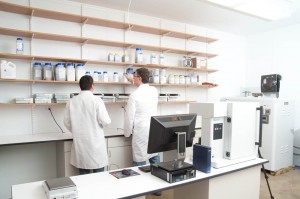 We utilize the Accuraspray Plume Sensor System to get a real time evaluation of average particulate temperature, velocity and flow rate during the coatings process.  The vertical position and profile of the plume itself are continuously recorded and then compared to user adjustable tolerances.  We know that the reproduction of coatings depends on the ability to monitor and control these key variables. This allows us to improve process control and better forecast coating thickness.  When used in combination, these QA systems allow us to provide the high performance thermal spray coatings our customers have come to expect!  Visit our thermal spray coatings page to learn more about the variety of coatings we offer, as well as a list of commonly serviced components.
 Coating Testing Capabilities:
Bond Strength (Tensile Test) ASTM C633 – Adhesion
*Test within scope of A2LA Accreditation ISO 17025:2005 Cert.# 3390.01

Shear Strength (Tensile Test)

Macro Hardness (Rockwell B&C) ASTM E18
*Test within scope of A2LA Accreditation ISO 17025:2005 Cert.# 3390.01

Micro Hardness (Vickers) ASTM E384 – Knoop & Vickers (100g, 300g, 500g, 1kg, 2kg)
*Test within scope of A2LA Accreditation ISO 17025:2005 Cert.# 3390.01

Metallography ASTM E1920, E2109
*Test within scope of A2LA Accreditation ISO 17025:2005 Cert.# 3390.01

Taber Abrasion Testing ASTM F1978, 18508-1

Sieve Analysis of Metal Powders ASTM B214 – 07
*Test within scope of A2LA Accreditation ISO 17025:2005 Cert.# 3390.01

Flow Rate ASTM B213 – 11 using Hall Flowmeter Funnel *Test within scope of A2LA Accreditation ISO 17025:2005 Cert.# 3390.01

Apparent Density ASTM B212 – 09 using Hall Flowmeter Funnel
*Test within scope of A2LA Accreditation ISO 17025:2005 Cert.# 3390.01

Area Percentage Porosity ASTM E2109
*Test within scope of A2LA Accreditation ISO 17025:2005 Cert.# 3390.01

Bondline Contamination QSLP 05 (QSLP is an in-house standard)
*Test within scope of A2LA Accreditation ISO 17025:2005 Cert.# 3390.01

Coating Thickness ASTM B487
*Test within scope of A2LA Accreditation ISO 17025:2005 Cert.# 3390.01